ABOUT US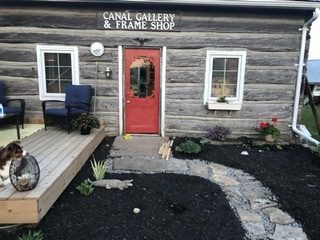 About Canal Gallery
Canal Gallery has been in business since 1994, and is located in Merrickville, Ontario, Canada.  This  web site features some of the artworks you'll find at our store.  Since many of our clients have asked whether our products can be seen online, we decided to mirror our gallery, and go even further.  By the time we've finished, we'll have over 2,000 in-stock originals, prints and posters shown here.
We represent dozens of art distributors, and we also sell the works of Merrickville and area artists.
What you'll see here are the most popular pieces in our gallery.  We can frame them for you, at really great prices, to match your decor, and personally deliver to you, if you're in the national capital region, or ship to anywhere in the world. Our packaging is superb.
You may have been in our Merrickville store: if so, you may be aware of our two guarantees: the first is the guarantee of a full, no-questions-asked refund of anything you buy from us. The second is related to our custom framing: anything we frame for you can be re-done at our cost if it does not fit your decor. If you select equal materials, you pay nothing. More expensive materials will cost you, and less expensive will give you a refund.
We have a staff of three, all qualified to assist you in art selection, and in custom picture framing.
HOURS:
MONDAY: CLOSED

TUESDAY THRU FRIDAY: NOON TO 5
SATURDAY: 10:00 TO 5
SUNDAY: NOON TO 4